Layout annotations can contain dynamic tags. When they do, the annotations are called dynamic text. Their tags point to information maintained outside of the annotations, such as the user login name, the computer name, the time when the map was last printed. When this information changes outside of the layout, the dynamic text automatically updates the information on the layout page.
To spell check dynamic text, click or select the Run command from the MapSpeller toolbar.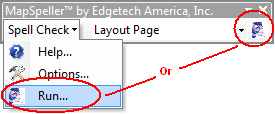 Prior to that, make sure that both the Layout annotations and Dynamic text boxes are checked in the MapSpeller™ Options dialog.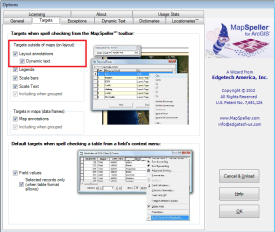 And verify that the options that are specific to dynamic text are to your liking.
If you want to be sure to run a large job in batch mode without warnings interrupting, make sure to set the language, cultural and Unsupported dynamic text warnings off (See Important Notes below).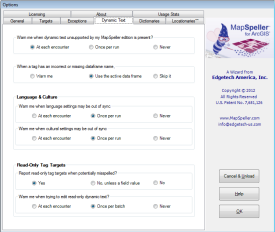 The MapSpeller toolbar must also have been set to proof the correct container: the layout page or the layout page without its maps.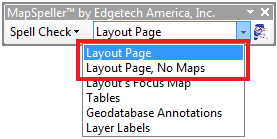 Dynamic text objects will be proofed regardless of their inclusion in grouped graphics.